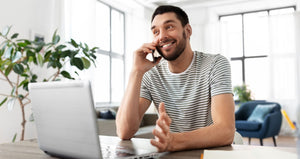 WHY WIRELESS & MOBILITY?
Wireless networking means more productive work days. Your team will have faster, more effective access to the people and information they need to complete tasks, reach goals, and help grow your business.
Wireless networking is flexible and cost-effective. Your company will be able to scale accordingly—all while spending less on the latest and greatest technological advancements.
GET STARTED
SOLUTIONS
LTT offers the smartest, sharpest Wireless & Mobility solutions on the market to keep your business efficient and secure. We work with a wide variety of trusted providers to implement the best solutions including:
TOP BRANDS WE OFFER
LTT prides itself on staying up-to-date with industry trends, and the ever evolving vendor solutions. It is our goal to find the best solution for your business.
THE LTT DIFFERENCE
We are committed to making your team feel confident and comfortable. From the initial consultation to the deployment and training to continued support and availability, our experts will be with you every step of the way.