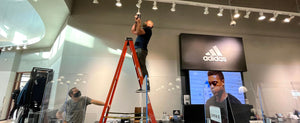 WHY CHOOSE LTT PARTNERS?
LTT Partners is your one stop for technology solutions and installation services. We specialize in 5 areas of business technology - Wireless & Mobility, Fleet Management, Physical Security, Cloud / Voice / Data, and Electrical. We provide installation and integration for all of these services. With our own in-house team of Low Voltage Technicians, Project Managers, and Technical Support Specialists, LTT Partners can solve your technology needs from start to finish and provide you with ongoing professional support. LTT Partners also specializes in custom electrical work. As your Loyal, Trusted, Technology Partners- our Technicians have the skill and experience to complete your project and exceed expectations.
GET STARTED
SOLUTIONS
LTT offers the smartest, sharpest solutions on the market to keep your organization safe and secure. We provide solutions for the following industries:
THE LTT DIFFERENCE
We know that your business is unique, so we'll come up with a proposal tailored to your distinct needs. When you partner with us, you'll get customized recommendations, the best technology the market has to offer, and ongoing support from our team. We're not here to collect on a sale and move on to the next big thing; when you choose LTT, you get a trusted partner that is in it with you for the long haul.